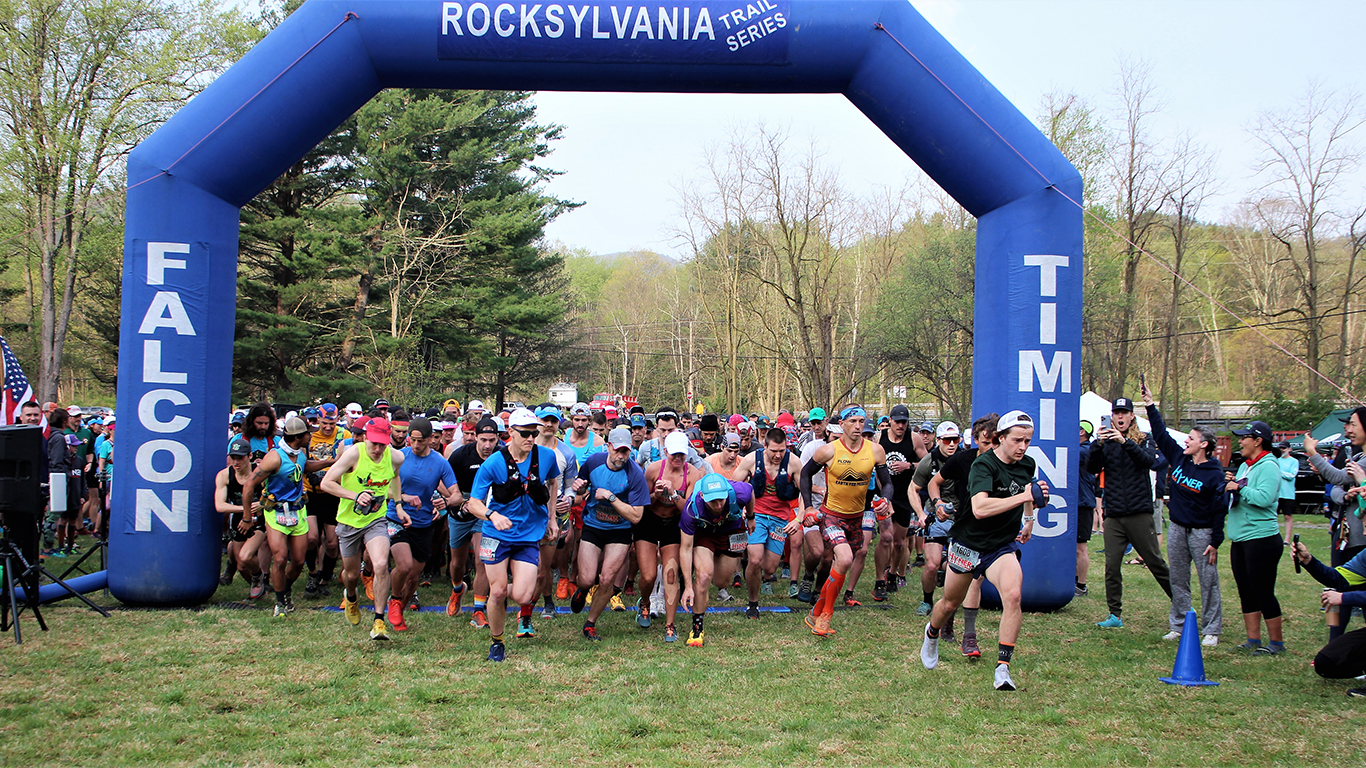 The 17th annual Hyner View Trail Challenge 50k (and 25k) took place on April 22. Adjusting for elevation and technicality, this was one of my strongest 50k performances ever, and I'm going to brag about it for just a bit!
✔ Hyner 50k
✔ 1/3 of the PA Triple Crown
✔ 1/4 of the Blacklist
✔ 1/6 of my 2023 race schedule
---
HYNER?
First off… Hyner is an old dog in the ultra world, especially in the PA trail race scene. What did you know about ultramarathons in 2007? That year, I ran the Broad Street Run for the second time, and was convinced that there wasn't a better race out there. Ultras didn't even exist in my world.
A few years later, when I was discovering that endurance racing was a thing, I vividly remember seeing Hyner on some primitive race list out on the internet. It has a distinct name, which it shares with the small, bucolic nook of Central PA where the race takes place.
So what exactly is Hyner? It's a non-entry level 50k race; literally, there's a qualifying standard that excludes all road races. Outside of the start and finish area, it consists mostly of single-track hiking trails. It has about 6,500 feet of net elevation gain. The majority of that elevation comes in three very steep climbs of over 1,000 feet, with the balance coming in 200-400 foot climbs in between. Its name and fame come from the very first climb that occurs in the first three miles: 1,300 feet from the Susquehanna river up to the Hyner View, a lookout that's a popular hang-gliding jumpoff point.
Hyner is the first leg of the PA Triple Crown, so the small field size of 400 runners sells out fast. I attempted to get in immediately after finishing the Worlds End in June of last year, and the race had already reached capacity. Fortunately, there's a waitlist, and fortunately, I made it in – but If you're serious about this race, you need to register early.
---
PREGAME
I spent the first 4 months of the year focusing more on elevation than endurance, capturing over 94,000 feet of ascent in 488 miles. That nets out to roughly the same slope of the race. Taking a similar approach for Worlds End last year resulted in quite a bit of leapfrog on race day, where I'd pass runners on the uphills and/or downhills who would then pass me on the flats. The imbalance in my training was clear, and I'm working to find a more balanced approach this year, but I still view elevation training as more important than endurance training.
Some complementary practices that I've adopted over the winter are doing a runner-centric yoga routine nearly every day, and taking a more mindful approach to carbohydrates (specifically added sugar) in my diet. This is to address two of my greatest weaknesses: under-investing in flexibility, and giving myself permission to eat virtually anything because "I went for a long run this morning." There's much room for improvement in the latter – I should be sponsored by Reese's.
Aside from some minor calf pain in February after taking on too much elevation too soon, all of the above led me to a place where i felt strong, flexible, and prepared on race day.
---
2023 HYNER 50K | 6:07:36 | Strava
Hyner is in a remote area of PA, with limited wireless service and limited lodging. There's an option to camp just feet from the starting line, but that's not me. I stayed about 30 minutes away in the Lock Haven area, where a Hilton and my pre-race Mexican dinner ritual were readily available. My old man came along for the ride, though the spectating options were limited to just the start and finish line.
The weather conditions were what you would expect in April: wet and cool. It was going to rain for most of the weekend, but the rain wasn't supposed to start until around 1pm. The race started at 8am. I put the thought in my head that "I'll just run fast and finish before the rain starts" – race strategy at its finest. I even doubled down on this strategy by replacing my morning coffee with a Jocko GO just minutes before the start. I wanted to find a good position in the first 1-2 miles to avoid the inevitable traffic jam as 400 runners consolidate from an open start into single-track.
The first climb up to Hyner View was the best part of the race. It felt like it was never going to end, but the screaming and energy of the spectators at the top, and the runners up ahead ringing the bell as they reach the summit kept the adrenaline high. After that, the real work began. The rest of the course was a mix of rocky but runnable trails, a few massive climbs, and a few stream crossings through remote sections of state forest.
With aid stations spaced out at 3-4 miles, logistics were simple. It wasn't a warm day, so there was never a point where I risked running out of water with two 500ml flasks. I made a point to eat something and have an electrolyte chew every hour. Idle time at aid stations was near-zero; refill one flask, grab a cup of food and cup of liquid, down it and move out. Caffeinated gels every 90 minutes and ibuprofen at the halfway point and marathon point kept me in a zone where the relief was noticeable, but I could still feel the burn of running an aggressive 50k race.
The second traffic jam occurred late in the race as I reached a point where the 25k and 50k courses merge. The 25k attracts hikers, which resulted in a lot of stop and go while waiting on an opportunity to pass.
This situation was exacerbated by the arrival of the rain and the trail turning to mud, especially in the last 2-3 miles that included the final 1,300 foot descent into the finish area. I wanted to fully embrace gravity and ride the downhill, but the muddiness of the trail and the need to maneuver around the 25k walkers made the placement of every step critical.
The finish was an all out sprint in a cold downpour of rain. My old man managed to find me right after I crossed the line. The post-race party looked like a good time, but at my request, we walked straight to the truck so I could fire up the heated seats for the 3 hour drive back to civilization.
There are no official race pictures for Hyner, but the community that's formed around this race includes several photographers that volunteer their efforts and share their pictures on the Facebook page. I've combined a few pictures that I remembered to take myself with those that I was able to find on Facebook below:
---
WHAT'S NEXT?
On May 6, just 14 days after Hyner, I'll be running the Breakneck Point Trail Marathon. This race packs 8,600 feet of elevation, which nets out to a course that is about 50% steeper, in terms of feet of ascent per mile. Pray for my legs.