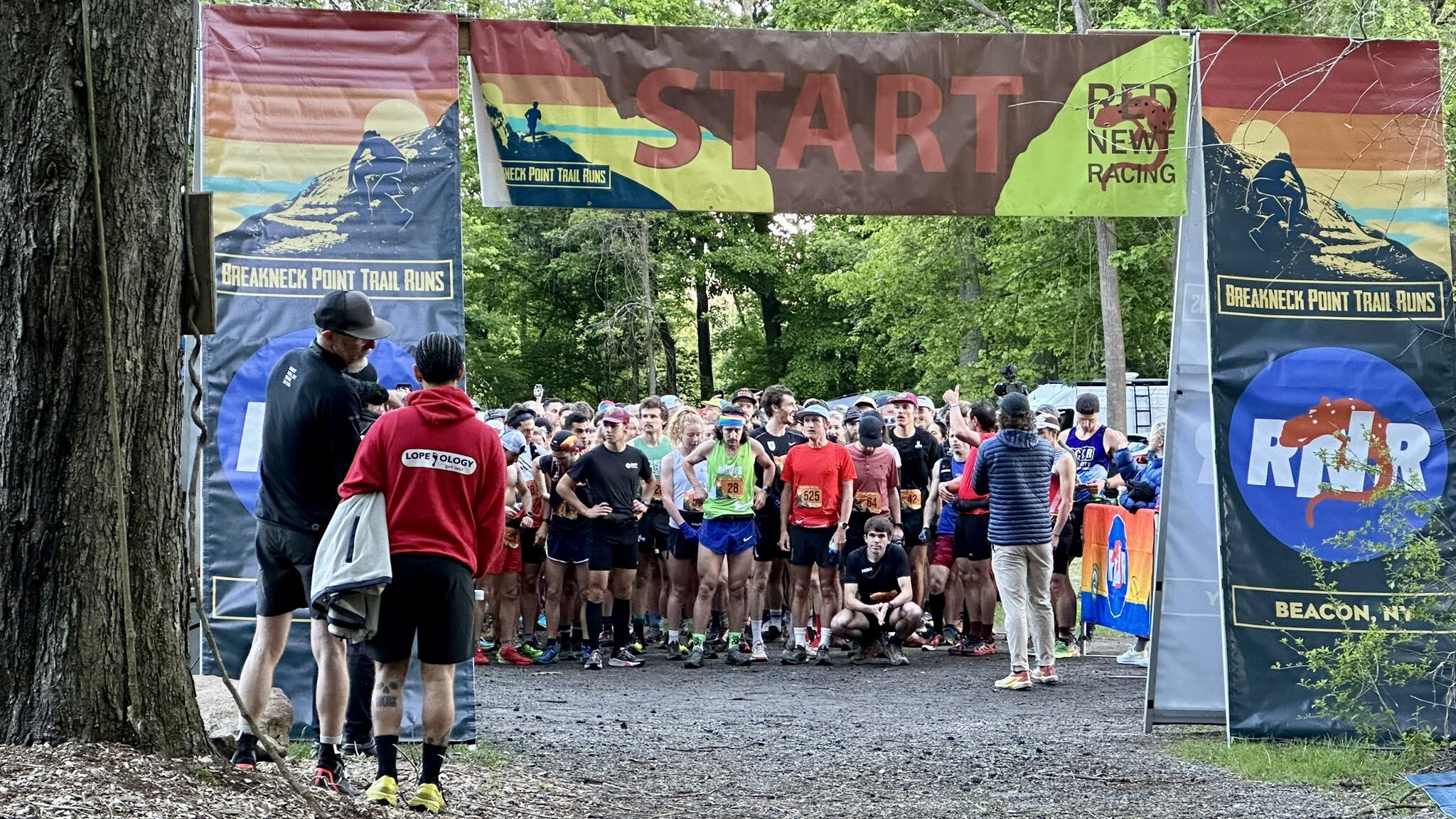 The 2023 Breakneck Point Trail Marathon (and Half Marathon) took place on May 6. In terms of distance, this was the shortest race on my schedule for the year. In terms of slope, this was by far the steepest race, with an average of over 300 feet of ascent (and descent) per mile. But in terms of pure difficulty, this was the most challenging race that I've ever done. Ever.
This isn't just my opinion; Breakneck Point has a reputation for being the toughest trail marathon in the northeast. THE toughest. That reputation is alive and well, since in 2023 it was the host of both the USATF Trail Marathon National Championship and the Golden Trail National Series Half Marathon races.
That's a lot of high-profile attention for a race that, like so many other trail runs, has a very small field size of about 300 runners in each distance. Why is it so coveted? Here's a visual aid that might help.
---
ACTIVE RECOVERY
A strong performance at the Hyner 50k left my body aching and my mind drained. The two weeks after an ultra typically involve more rest than exercise. But with only 14 days in between a hard race and a harder race, I had no choice but to roll forward and continue training.
Yoga has proven to help my body quickly recover from high mileage/elevation days, so I applied what I knew: back to back yoga days, followed by a run. The immediate response from my body on that run was… arch pain on my right foot. A pain that I knew. Plantar Fasciitis. Shit.
I don't have time to be injured this year. So I kept up the yoga, and kept up the running. It didn't get worse, but it didn't get better. This put me into a bit of panic. I've suffered from plantar fasciitis before, and it took over a year to fully go away. A fast recovery was the only option.
I have a methodology of working through injuries that I call Active Recovery. It's not a novel idea and I'm certainly not the only person doing it, but the key point is to reject the conventional wisdom that "if you have pain, you should start by taking 4-6 weeks off to recover." That's not me. My belief is that all but the worst injuries like stress fractures are caused by something that needs to be corrected, like a tight muscle, an imbalance in strength, or improper form.
Active Recovery is simply a controlled system of trial and error. It works like this: do one thing, go for a run, evaluate if the symptom improved or remained the same. If it remained the same, try something new the next day. If it improved, do more of that thing. It's not the most scientific approach, and correlation doesn't always imply causation. But it's always delivered on results.
The important part is the "active"; that I never stop moving. Running is the feedback mechanism. A period of rest might help the pain subside, but if the underlying issue isn't addressed, it's likely to return. Then what?
After much trial and error, a combination of intense foam rolling, massage gunning, and stretching – all focused on my calves – relieved 80% of the pain by race day.
And just for good measure, I threw in a trail shoe refresh, replacing the pair of Topo MTN Racer 2 (that took months of abuse on the local trails, culminating with a serious beating at Hyner) with a pair of Topo Ultraventure 3, in a new wide format that fits much better.
---
2023 BREAKNECK POINT TRAIL MARATHON | 6:20:52 | Strava
TL;DR – 10/10, would never do again.
I made the short drive up to Beacon, NY the night before to stay in an Airbnb with five of my trail dudes that were also running in the race. An amazing vegetarian dinner and beer(s) at The Wherehouse provided an opportunity to catch up on life, talk training/race strategies, and joke about who would be going out too fast (hint: this guy is the serial offender).
The sleeping experience in the Airbnb was straight up unpleasant, and I didn't get my desired 7-8 hours of beauty rest. But such is life.
I was still the first one up to get an early start on my yoga and foam rolling ritual, hoping that it would get me through the day without any permanent damage. We downed some breakfast calories, then drove to the starting area, where I also put down a pre-race Jocko GO – because it worked so well at Hyner? Weather conditions were perfect: low 40s at the start, low 70s at the expected finish.
We arrived to the starting line early enough that we ended up in the front with the elites, which is where we stayed until the gun. Probably not the best idea… or was it? It was too late to matter, because it was go time. The first 3 miles were varying grades of uphill, for a total climb of about 1,300 feet. The next 23 felt like a constant switch between uphill and downhill, without much flat easy running parts to speak of.
There are only three aid stations in the marathon distance, which is substantially different from the trail ultra standard of every 3-5 miles. It was a good test of self-sufficiency. I carried a variety pack of caffeinated and non-caffeinated Humas, plus a few waffles to mix things up. Hydration consisted of a pair of speedflasks and a new collapsable handheld – with water only in all three. At the warmest part of the day, I never felt like I was going to run out of anything. Though it confuses me how some people do races like this and carry just a small handheld bottle.
The waffles are a known commodity to me, but the Humas were new. They did the job, but but the textures were inconsistent – which is not a product fault, but a result of buying a variety pack. I'm not sure if I'll continue to use them, but the idea of single-serve packets of calories/carbs/caffeine simplified intra-race logistics and is growing on me.
Back to the course. It was brutal. Fortunately, it was mostly dry, with only a few muddy spots (where I did lose a shoe on one step) – but there were tons of annoyingly small rocks with leaf cover, making footing extremely difficult. There's a skill to rolling an ankle on a trail run without actually causing any damage, and Breakneck is a good test of this skill. Breakankle would also be an appropriate name for the race. The steepest parts were near-vertical climbs up (and down) that are not exaggerated in the race logo or the official name.
Bugs were a serious issue late in the race. On one of the long, grinding uphill walks, they were so bad that the only way I could keep them off my face was by walking with my hands held above my head. The feeling of dozens of bugs crawling on my arms was gross, but a much better alternative to inhaling them while grasping for fresh air.
And speaking of late in the race… cramps. Big time. In both adductors, which is an unusual spot. I tried to curb them with moderate doses of ibuprofen and extra doses of electrolyte tabs, but they brought me to a halt on several uphill sections between mile 20 and mile 24. Once I reached a point where the homestretch was all downhill, they subsided. But it was a frustrating experience.
Frustration was quickly replaced by elation at the finish line. Under 7 hours was my mental goal, so I'm very happy with 6:20. But this race taught me that I need to continue to progress my endurance, strength, and nutrition to stand at the starting line of my next few races with confidence.
All of that said, it was an awesome day. It's always good to spend some time with familiar faces that share an affinity for these challenges, and making some new acquantances. The race experience and course were top-notch. I stopped to enjoy the views quite a few times, and the race photographers took some sweet action shots. All are combined below. 10/10, would never do again!
---
WHAT'S NEXT?
On June 3, a luxurious 28 days after Breakneck Point, I'll be returning to the Worlds End 100k for the second leg of the PA Triple Crown.
What lies ahead is familiar territory, but even so – it's over 12,000 feet of ascent (plus the corresponding descent) and nearly 64 miles of running. We were blessed with unseasonably cool, dry weather last year that may not happen again.
In order to survive Eastern States, I need to improve the cramping situation – either by not getting them in the first place, or by being able to better manage through them when they come. I'll be preparing some new experiments in the strength and nutrition department to see if I can make some improvements on race day.