HAPPY NEW YEAR!
I love the fresh smell of a brand new year. It's full of optimism, and potential for what might come to be. And with that come some new running goals for the year ahead.
Reflecting on the back half of 2021… DNFing at another 100 mile attempt was frustrating. But tapering down into a strong finish at the Boulder Field 50k was redeeming. Since then, running has been casual and mostly for pleasure, mostly on weekend mornings with my local running dad crew. And there's been some much-needed downtime, which is apparent in how the remainder of the 2021 Dads on the Run played out. All in, it was a year to be proud of.
Kilometers vs the Year hasn't lost its appeal, but it's normalized into table stakes at this point. I've got my sights on something a little more challenging to layer on top of it this year.
---
THE WORLDS END
So what lies ahead? Rustic, single trails. Uncomfortable levels of elevation. A new ultra race distance that's intimidating, but short enough to end within normal waking hours. And hopefully some sweet new swag with the namesake.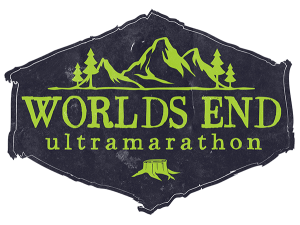 Back in early December, I was fortunate enough to land 1 of only 175 spots in The Worlds End 100k. It's billed as one of the toughest, most scenic trail 100k races in the country, and it's almost in my backyard in NEPA.
This race isn't for everyone, nor does it try to be. Securing a position at the starting line requires evidence of completing a qualifying 50k trail race within the last two years. Then there's the race itself: 63.8 horizontal miles (slightly more than 100k) of single loop trail, net elevation gain of a staggering 12,395 feet (plus 12,395 feet of downhill), and a fairly aggressive cutoff time of 19 hours. With a finish rate of 43% in 2021, this race isn't even for the majority of runners that attempt it.
That might not sound like a hoot, but there's an extreme appetite for this type of challenge in the ultra community, and races of this caliber are rare in the Mid-Atlantic. With the small field size, it sells out in minutes; 3 minutes and 16 seconds this year, to be exact.
As a point of reference, last year I completed roughly the same horizontal distance at The Beast in just over 12 hours before dropping out. The net elevation gain was a whopping 17 feet. And the technicality of the trail was so simple, it could be shuffled with closed eyes (which may have happened).
Assuming the same level of training, 7 hours to bolt on about 2 vertical miles of uphill and 2 vertical miles of downhill might seem reasonable. But it's far from a lock. Foot placement is critical on more technical trails, and moving downhill is worse than the uphill climbs. It nets out to an unavoidable drag on pace compared to road running that can be difficult to swallow.
Then there's the distribution of the elevation, which is relentless. There don't seem to be any boring, easy stretches. Boring, easy stretches are my friend. Hills aren't. It's flat enough around here that climbs over 300 feet usually become a partial walk. I can spot at least fifteen 300+ foot climbs in the elevation profile for this race.
Complaints aside – this is new territory, and it's exciting. It's even a little frightening. But fear is a powerful motivator for me in this dysfunctional relationship that I have with endurance running. Will 2022 be the year that I become a legitimate trail runner?
---
"THE CRUSH"
I'm notoriously DIY when it comes to training. There's no prescription of daily mileage and speed workouts from a so-called expert, or a heart rate monitor telling that I'm in the aerobic zone. It's just my intuition, Strava, and a spreadsheet; a modern incarnation of a guy scratching down some notes on a calendar on how much distance looks right for the upcoming weekend.
My training blueprint for The Worlds End is called "The Crush", which is inspired by something that Christine and I learned about while volunteering for a week at an elephant sanctuary. Conceptually, it's an unspeakable process, which may be used by some repugnant mahouts to domesticate some wild elephants in some remote parts of Thailand. The name may refer to crushing the soul of a young elephant.
The internet can't seem to decide if this is PETA propaganda or not. Either way, don't google it; there are some things out there that can't be unseen. I'm not taking a side, but the visceral analogy to endurance training is appropriate.
True readiness for an ultramarathon requires building tolerance to race through pain and adversity. It's temping to rationalize it as hitting a weekly mileage target, but this approach doesn't check all of the boxes. A challenging race will demand the willpower to keep moving forward when it's too dark, or too hot, or it's raining, or you're too tired, or the injury that you thought was gone makes a return and there's still a marathon distance to go to reach the finish.
This is psychological warfare, and it's a paradox in that it's so simple to train for, yet so hard to train for. Does any sane person want to voluntarily run in the aforementioned conditions? Of course not; but only training for optimistic conditions is asking for a DNF. I say this with ample firsthand experience. A little squishing of the soul is necessarily to normalize the mental discomfort.
---

"The Crush" is a three stage plan that combines my existing experience in training for endurance with what I have yet to learn about training for elevation.
IT'S DARK AND HELL IS A POLAR VORTEX | Jan 1 – Mar 6
The first 10 weeks are for building both an endurance base and an elevation base, while proactively managing overuse issues. The winter months will offer unpredictable (and most likely unfavorable) conditions. Sunlight is scarce, it's cold as hell, and the punch of a polar vortex snowstorm can severely limit training options for weeks at a time. This will ramp up to the Naked Bavarian as a litmus test of endurance.
WHAT GOES UP KEEPS GOING UP | Mar 12 – Apr 24
The middle 7 weeks pivot to more intensive elevation training, with less focus on overall distance. The spring months will likely offer a mix of snow and rain, with the result being consistently muddy trails. This will culminate with a trip to the ultra-flat SRT 50k (a pre-pandemic registration that keeps getting canceled) as a reminder that endurance is still important.
NO TAPER TANTRUM | Apr 30 – Jun 4
The last 6 weeks before any race is philosophical: do you believe in tapering? I don't. To avoid tantrums, I need a schedule where the race itself is just another incremental step up in the training plan. This training will include a little bit of everything, and will reach for some new extremes.
---
TRAINING PRINCIPLES
I'm testing out a mix of old and new principles in this training plan – here's my logic:
WEEKDAY RUNNING IS OPTIONAL
It doesn't mean I won't run, but it's not critical to the plan. Weekdays have become too unpredictable with work and two kids. Running Kilometers vs the Year again will sufficiently get me out the door on weekdays, but the real QT will be weekends.
BACK TO BACKS ARE BACK
A fundamental of endurance training: barring illness or injury, I'm going to punish my mind and body nearly every Saturday and Sunday morning for the next 5 months.
FLEXIBILITY MATTERS
I'm going to try something new and commit to flexibility exercises on Mondays and Fridays. My body responds well to it, but it's historically been an often ignored best effort.
PACE DOESN'T MATTER
Pace isn't a visible aspect in my plan. Chasing pace inevitably leads me to injuries. So I'm throwing it out entirely in favor of casual Long Slow Distance.
DATA-DRIVEN ELEVATION
I'll never come close to a race-grade net elevation profile on a single training run. But amplifying the average slope of shorter runs will be an acceptable substitute. Calculating [Net Elevation (ft) / Distance (mi)] for my planned and actual training runs provides a comparative level of difficulty. The Worlds End has an average of 194 feet of elevation gain per mile. I'm keeping an eye on how to stay in this range during training.
---
"SWEET POLES, BRO!"
The gear aspect of this particular race is somewhat of a conundrum…
It's a foregone conclusion that real trail shoes are necessary for a course as technical as The Worlds End. My go-to Nike Free Runs, oversized and with the shoe laces removed, aren't going to cut it. But wait, there's a Nike Free Run TRAIL model – sold.
What's still up for debate is the importance of trekking poles. There are always some in use at trail ultras, and media from previous editions of The Worlds End confirms that some (but likely not all) participants use them. Are they essential? I'm a gear minimalist, so the verdict is very much still out on this one.
---
WHAT'S NEXT?
The race is exactly 5 months from today – June 4th. This is the point where I go dark and head into the grind. I'll eventually come back up for air with a prescriptive idea of what a successful race day will look like.
Happy trail running!