2021 is a full decade since I finished my first ultramarathon. Two, actually – a 50k and a 50 miler in the same month. It took four years for me to level up to a 100 miler. And six years later, I'm still enjoying the challenges that this distance has to offer.
To date, I've made six attempts at 100 miles, resulting in four finishes and two DNFs. Incidentally, all four finishes have occurred at what has become my favorite race, the Beast of Burden (colloquially referred to as "The Beast", where participants earn the very prestigious "beast" title) – a semiannual ultra series with a 10+ year history and a cult following.
I have over 100 hours on the clock with The Beast – the most time on any single race course in my running career. The repetition has allowed me to learn from mistakes and fine tune my endurance strategies. This has given me perspective on my own improvement through trial and error over the years.
After over a year of virtual-only racing, I'm returning for yet another attempt on July 31 – August 1. This is a pre-race read that describes the event, and how I intend to survive it.
Whether you're an aspiring beast or just a curious mind – enjoy!
---
I'M SORRY, DID YOU SAY A 100 MILE RUN?
When the topic of a 100 mile ultramarathon comes up in conversation, it generates questions. The details of an event where people willingly head out for a run and don't stop until they've completed 100 miles aren't common knowledge.
That said, it's far from a "100 mile run" for the average participant – which this middle aged, mid pack runner is categorically an average participant.
Let me clarify some of the basics with my top five FAQs:
1. I'm sorry, did you say a 100 mile run?
Yes. To be fair, there's quite a bit of fast walking involved – between 15% to 25% of the time for me. But it's still continuous forward motion that spans about 200,000 steps, burns about 15,000 calories, and takes about a day to finish, to put it into perspective.
2. Do you stop to sleep at night?
Ideally, no. Stopping, sleeping, even sitting down – these are things that will make you not want to get back up and continue. In the 2020 Beast, I had to take two power naps to get through the night. Setting an alarm on my phone and hoping that it would wake me up over 20 hours into a race was terrifying.
3. What do you eat and drink, and where do you keep it?
Probably the best part of a 100 miler is that you can eat and drink whatever you want. Most races have well-stocked aid stations, catering to the diverse cravings that ultrarunners have. And many races allow (or even require) support crews and vehicles to self-supply food and drink. Availability is rarely a problem; it's consuming enough, and how your body reacts to it.
4. How many people are in the race?
About as many as you'd think. Popular races will sell out in the low hundreds. The Beast usually has around 50 participants in the 100 mile distance. The small field size creates an intimate race day community – you're not a number.
5. Why would you do that to yourself?
Fair question. Science says that the motivating factor is life meaning. I do it for the magnitude of the challenge. And for the finisher belt buckle (a hallmark of 100 mile races):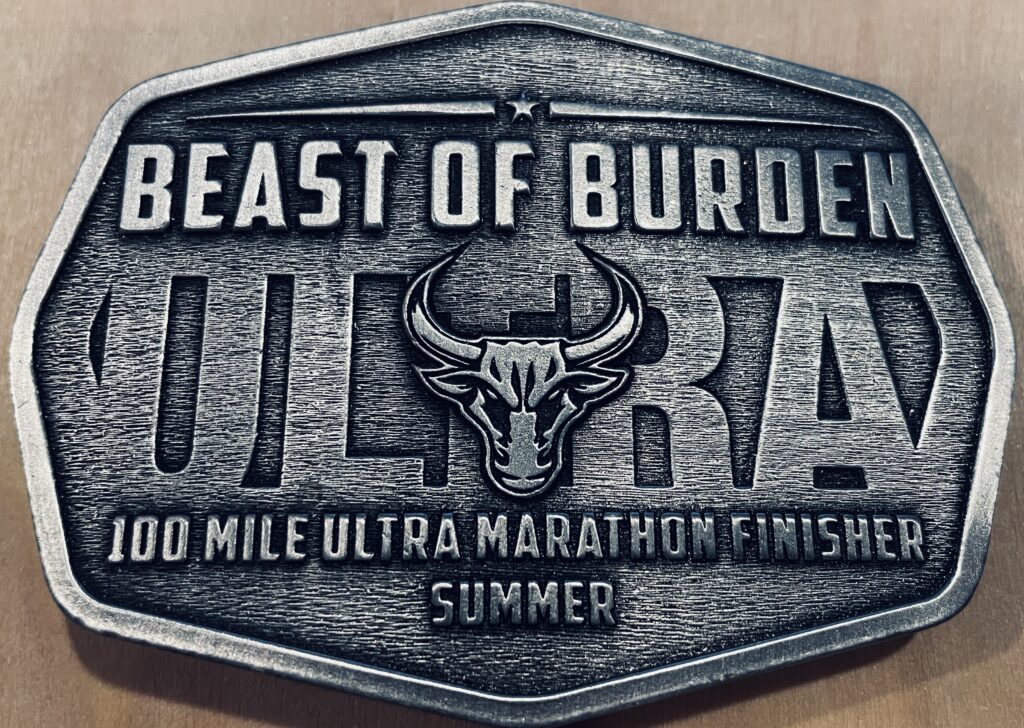 ---
THE BEAST OF BURDEN
The Beast takes place on a stretch of the Erie Canal in Lockport, NY, a small town on the outskirts of Niagara Falls. The main attraction is the canal itself, as Lockport is home to the first two locks east of Buffalo.
The race is held twice a year: in the cold of winter (late January/early February) and the heat of summer (late July/early August). Both editions are identical, with 100 mile, 50 mile, and 25 mile races (for "mini-beasts") taking place concurrently. The cutoff time is 30 hours.
My favorite thing about The Beast is the 10am start time. Ultras are notorious for super early starts. Not here. There's adequate time to sleep in, eat breakfast, stretch, and still make it to the starting line to pick up your bib and swag. With a start this late though, it's almost a guarantee that you're going to run entirely through the night and into the next day.
All three distances commence at the same time on the south side of the canal at the Widewaters Marina, which is not only the start and finish line, but one of three aid stations. Things officially get underway to a very fitting soundtrack: The Rolling Stones anthem "Beast of Burden".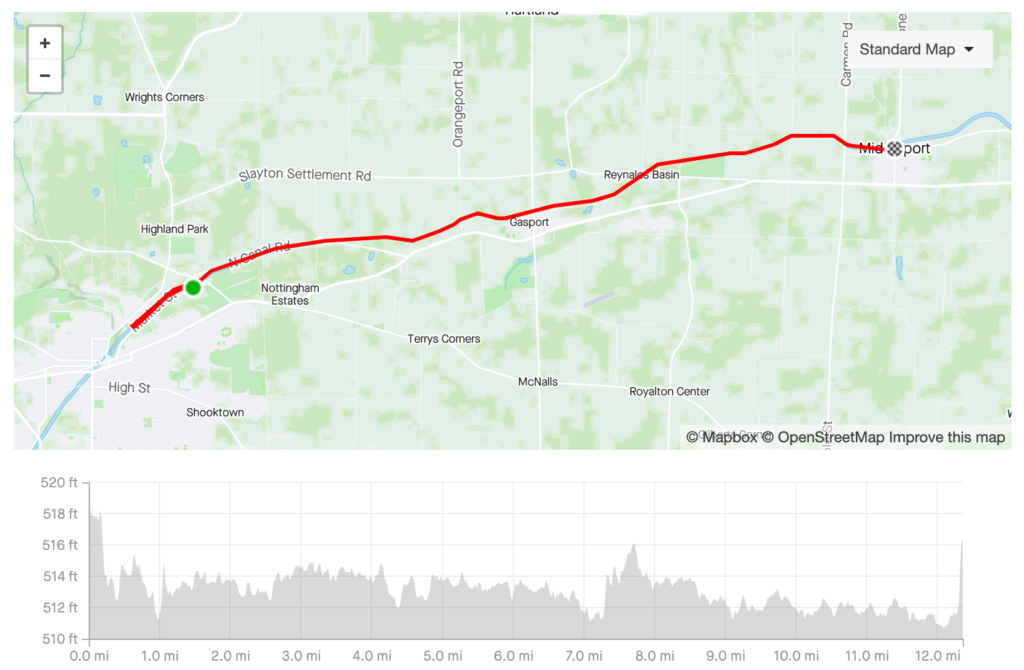 The course is as simple as it gets. It's a 25 mile "out and back" loop between Lockport and Middleport, another small canal town to the east. It consists of 90% crushed cinder towpath (comparable to a rail trail) and 10% pavement, most of which is the first mile from the starting point.
The first two miles is a boomerang – you head west for a mile on a mix of sidewalk and paved bike trail to the Mill Street bridge, cross to the north side of the canal, then backtrack east for a mile on the towpath until you're across from the starting line.
From here, it's 5ish miles of towpath with the occasional overhead bridge to the next aid station, an outside tent at the Hartland Road bridge in Gasport. Another 5ish miles of towpath takes you to the third aid station and far end of the "out and back" at the Main Street bridge in Middleport. This stop is inside a building over on the south side of the canal, but signs and spectators make it pretty obvious where to go.
At this point, you've made a full 12.5 mile pass on the course. To complete the 25 mile lap, turn around and go back to the Widewaters Marina. Then if you're a mini-beast, you're done. But if you're in for 50 miles, you've got one more lap to go. And if you're in for 100 miles, you'll need to make the trek three more times.
The aid stations are stocked with a wide selection of salty and sweet food and beverage, which thoughtfully change over time to match what you're likely to crave later in the race. They're the best ultra aid stations that I've encountered, and the volunteer staff are very helpful.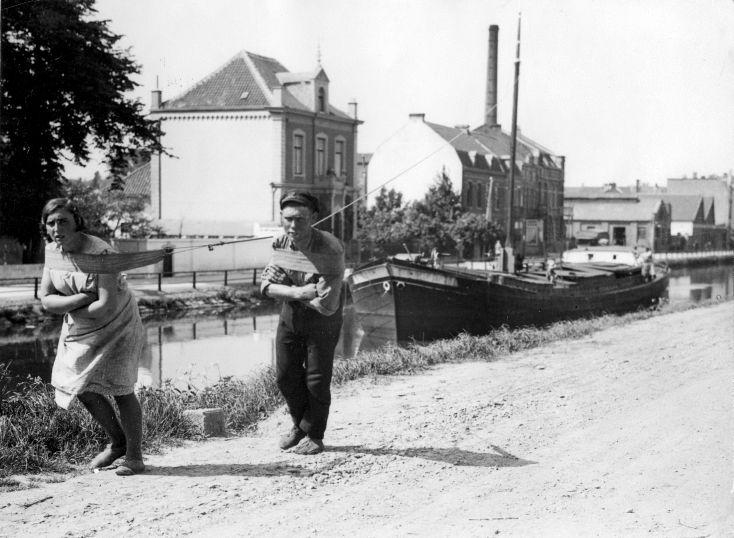 The gift and curse of The Beast is its dead flat elevation profile. You won't be punished with the repeated 1,000 foot elevation climbs of Eastern States; instead, you'll be tormented with no variation in how your leg muscles are engaged. Late in the race, I find myself walking backwards, or even laterally, simply to feel a little less pain.
There's little shade out on the canal to offer protection from the elements. But if you're lucky enough to race on a weekend with no cloud cover, the reflection of the moon and twilight off of the water is majestic.
The simplicity of the course and quality of the aid stations eliminate a lot of intra-race cognitive load. You simply have to keep going in a mostly straight, flat line on the correct side of the canal and have your endurance strategies dialed in. However, this is completely offset by the fact that with simplicity comes monotony. It's the same scenery for 100 miles.
Fortunately, the beast family will help break up some of that monotony. The community that exists around this series is second to none, and everyone has their trademark. The beasts that I always look forward to seeing are Billy Richards (who races with a full-sized American flag), Justin Fitzgerald (always laughing), Gary Thompson (best dressed), Lisa Trapasso (we don't talk – just yell "hey fucker!" in passing), and David D. Drebsky (the unicorn).
I wonder what my trademark is…
---
You're going to have issues. You're going to have foot issues, you're going to have stomach issues, you're going to have sleep issues, and you're going to have mental issues.
This humbling wisdom has stuck with me over the years, probably because I've learned to appreciate it the hard way.
Every time I'm gearing up to run The Beast, I find it meaningful to remind myself that I've I've worked through my fair share of issues. This helps me develop the survival mindset that's needed for race day.
2015 SUMMER EDITION | 26:36:03 | Strava
I had recently completed the KEYS100 in a 5 person team relay, and young, naive me wanted to attempt 100 miles alone. The Beast was a random selection out of the handful of geographically close options. Race conditions were pretty reasonable. Within the first mile, I paired up with four beasts (Lisa, Julia, David, and Young Andrew) for most of the race. This was a blessing in disguise, as I was inexperienced with the issues that arise in the second 50 miles. Christine did a great job crewing and dealing with my emotional swings every 12.5 miles. The soreness in every inch of my body was so far beyond what I imagined to be possible that the only words I could say at the finish line were "never again".
2017 SUMMER EDITION | 21:53:27 | Strava
Memories fade, and so did "never again". 2017 was not only a PR year, but was also the only time I've finished under 24 hours – well under 24 hours! The stars were aligned. Even with a 6 month old, I had logged far more training miles than in 2015. Race conditions were unseasonably cool. I ran aggressively, going out hard and keeping to myself. Dave, one of my running friends from the KEYS100 relay, drove up from Philadelphia to pace me through the night. Once again, Christine did a great job crewing, and having Maya along for the ride provided some extra motivation!
2019 SUMMER EDITION | 26:46:18 | Strava
2019 was an "issues" year. A few months earlier, I DNFed 42 miles into the KEYS100. TL;DR – I was unprepared for the 100+ degree and 99% humidity climate of the keys, and made poor gear decisions that literally chafed me to the point of no return. Seeking redemption, I returned to The Beast with my dad crewing. The heat was oppressive. I paced through the day with Gary, then went solo overnight. At mile 50, I violated a cardinal rule (don't try anything new on race day) by rotating in a new brand of OTC compression socks for the night. By mile 75, there were blisters covering the bottoms of both feet that were beyond treatment – the choices were to drop out or suffer through. I suffered through, but every step of those last 25 miles (6+ hours) hurt like hell.
2020 WINTER EDITION | 27:05:54 | Strava
Training through the winter for the KEYS100 convinced me that I could thrive in a cold weather ultramarathon. So just 6 months after the previous race, my dad and I were back in Lockport for my first (and maybe last) Winter Beast. Race conditions were a nightmare. The northeast was under a "polar vortex", with upstate NY receiving 6 inches of snow the day before the race. Daytime highs were in the teens, nighttime lows were in the negative teens, and there were 4 more hours of darkness than in the summer. The uneven surface created by the snow dismantled my left knee. And I dropped my phone in the middle of the night, then lost about 45 minutes of time walking around in the dark looking for it. I also took two naps at aid stations, because I was nodding off while running. I wanted to quit. I don't remember what kept me in, to be honest. But I persisted, and eventually walked across the finish line in Lockport.
---
2021 SUMMER EDITION
The 2021 Summer Edition of The Beast is the first in-person event in the series since the 2020 Winter Edition due to the COVID-19 pandemic, and I'm excited to be there for its return!
I'm still licking my wounds from my second DNF; this one was 37 miles into a "Virtual Summer Beast" last year. TL;DR – I succumbed to breathing issues that may have been lingering COVID-19 symptoms. Once again, I'm back for redemption. Consecutive DNFs would be traumatizing, so I'm going to attempt to balance racing aggressively with securing a finish. My stretch goal is to get back under 24 hours.
My dad has volunteered to crew again. He'll be leapfrogging me back and forth between Lockport and Middleport for most of the race (though I give him permission to take the night off). We share locations through the Find My app so he can see where I am. We've got this down to a science, and I think he enjoys the job!
My race objective for 2021 is to minimize nonmoving time. Historically, between 2-4 hours of my elapsed time has been spent standing or sitting, an amount that's not insignificant. Most of this occurs at aid station stops. The Beast has 15 of them, and it's unavoidable to stop for hydration, food, and gear changes. Getting through them with a greater sense of urgency is probably the biggest lever available to influence my finish time, though it's much easier said than done.
---
#BEASTMODE
Here's the tactical plan, straight from the playbook:
Race day will commence at 5am with coffee and a 90 minute foam roll/deep stretch routine. This will be followed by a quick shower and breakfast, then the task of meticulously sorting out where everything will go in my dad's truck for fast access. Then we're off to the Widewaters Marina to pick up my bib, catch up with the beast family, and count the minutes to the pre-race announcements.
My daytime wardrobe is tried and tested: super short shorts, a super tight shirt (or not if it's too hot), OTC socks, and oversized Nike Frees. A generous amount of jelly goes on my feet before the socks to prevent blisters, and 2Toms goes everywhere else. And finally, some sunscreen and cover for my bald head.
I'll wear my hydration in a Salomon vest with integrated soft flasks, and will also carry a grip-free Nathan hand flask to ensure that there's always an excess supply available. Likewise with food; I'll carry a stash of banana chips, fig bars, and stroopwafels in the vest to have calories available in between aid stations.
My phone (with a battery case for extra juice) will ride along in the vest, tracking the race with Strava. In case of emergency, I'll have electrolyte tabs, Ibuprofen, and TP. Everything else will be in the truck or available at the aid stations. I aim to carry as little as reasonably possible.
Once the race gets underway, the immediate priority will be to establish pace. The mini-beasts and 50 milers will entice me to go out too fast. I'll be listening for the pace readout from Strava after each mile, and will be looking to stay within 11-13 minutes per mile.
Next up are sustainable consumption patterns for food and hydration, which revolve around the arrival at the next aid station. Simply put, I have to eat something (up to 200 calories) about halfway between aid stations, and I have to finish most of the water that I'm carrying (up to 50oz) along the way. This will create a cadence where I'm arriving at the aid stations just in time to refill my water and pick up more calories.
Less complicated to manage, but equally important are monitoring urination frequency and color, reapplying 2Toms on anything that feels like it's beginning to chafe, and stopping to stretch out any discomfort.
Barring any unexpected issues, I'll rinse this formula out until the night rotation in Middleport at mile 37.5, where I'll change every article of clothing that I started with, transfer my bib over to new shorts, and add night gear.
My night gear consists of a reflective vest with safety lights clipped to the back, as required. Maybe a long-sleeve shirt if it will be cool enough. I'll wear a headlamp, but it will only be for emergencies. It might be hard to imagine, but it's possible to run through the entire night in complete darkness due to the simplicity of the course.
My overnight strategy is simple: do whatever it takes to survive until dawn. Running overnight is psychological warfare for me. It's as if all the adversities of the race conspire to manifest together after dark – physical pain, mental fatigue, lack of thirst/appetite, sleep deprivation, darkness, isolation, and self-doubt. But on a positive note, if and when the running is going well – it's the best part of the race.
If there's going to be a low point, it will be Mile 75 in Lockport. Every year, I get hung up here. I find no shortage of good excuses to park my butt in a chair and take a well deserved break. This is a plea to my future self: don't sit down! Pick up extra food, put headphones on, and start walking it out to the bridge.
Assuming that I get out of Lockport… the sun will eventually rise, and my dad will be waiting for me in Middleport at mile 87.5 with coffee and a donut. I'll shed the night gear, then hit the towpath for the home stretch.
If I'm pacing within the cutoff time, there's virtually nothing that will prevent me from finishing from here. Though I'll be miserable, so copious (but reasonable) amounts of caffeine, sugar, and Ibuprofen will be in order. I just need to reach the point where I can see the Widewaters Marina off in the distance. Then adrenaline will carry me to the finish line.
---
Everyone has a plan until they get punched in the mouth.
I haven't felt better prepared for any edition of The Beast than I do right now. But months of training and a rigorous plan won't preclude me from the discomfort that shows up in a 100 mile race.
Ultramarathons are tests of what the mind and body will tolerate. The race will come out swinging. It's not supposed to be easy, but the fight can still be enjoyable. I'm thankful for the opportunity to be in the fight.
Let's run!