Here's a little known fact, that will remain little known… I used to be a DJ. As in, two Technics and a crate of vinyl, and occasionally a microphone. And an eclectic, but judgmental ear for music discovery.
I'm not joking – but this was so long ago that:
1. I still had hair
2. It pre-dates the iPhone, so this is the only embarrassing picture that exists to prove it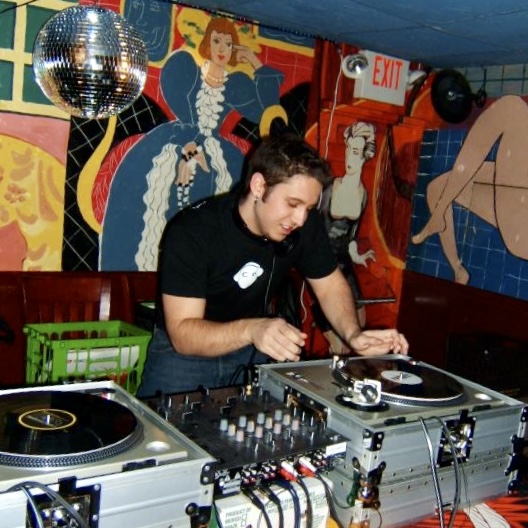 The turntables might be gone, but I'm still the selector of the household. Soma FM gets a lot of airtime around here, and they currently have holiday channels that would make an excellent soundtrack to your Christmas morning. A curated playlist of electronic music gets me through solo training. And on a cold weekend morning, I'm probably listening to the greatest piece of music that humanity has ever produced… again.
Dick Clark famously said "music is the soundtrack of your life." I agree that music is associative to our experiences. But when Spotify starts advertising the "Top" anything of the year, it reminds me of how disconnected my own taste is with the rest of the planet. The Top Tracks of 2021 USA are most definitely not the soundtrack of my 2021. Pop music is tragically uninspiring.
Fortunately the DJ was hard at work all year, slogging through the internet in search of a few indisposable tunes. Without further ado, these are the real sounds of 2021. I suggest having at least a good set of earbuds on hand (preferably with an EQ) to fully appreciate the sonic profile that these tracks have to offer. Compact speakers do a disservice.
---
SAMBOX – RISING SUN | 2009 | Lounge Feelings
Rising Sun has been the backbone of my mornings for years. This popped up on Groove Salad shortly after Christine and I returned from that trip we went on. It vividly reminded me of so many early mornings out in so many "parts unknown" of this planet. It still does. And… that bassline.
When my mind needs to escape to somewhere else at 4am, I start here. Why 4am? Because infants make up their own sleep schedules.
BOARDS OF CANADA – AQUARIUS (VERSION 3) | 1998 | Peel Session
Another discovery from Groove Salad. Boards of Canada is probably the biggest electronic music act of the nineties that not enough people have heard of.
Aquarius is an uncomplicated example of how music reinvents itself. BOC sampled a well-known track of the same name from the 70s and reconstructed it in their own style. "Version 3" recorded for their Peel Session is a super punchy mix, with a big fat bassline. That said, it has a vintage, dystopian feel that isn't unfitting for a mid-stage pandemic.
BLACK 8 & ARRAB – PAPYRUS | 2017 | Moses Mountain
This year I discovered Black 8 and Arrab. They're from Egypt, and it's observable in their productions, starting with the name.
Papyrus is a solid B-side. The bassline has swagger, the mix is really well balanced, and it's arranged with just enough purpose as it wanders along that you'll lose track of the fact that it clocks in at a massive thirteen minutes. I'm shocked that progressive house music like this still exists. It sounds like it could have been produced 15 years ago.
BLACK 8 & ARRAB – SANDWAVES | 2018 | Sandwaves
Sandwaves was my introduction to Black 8 & Arrab. I can't pinpoint why this track hooks me. It's assertive, and hostile. Hands down, it's my favorite on this list.
MASSIVE ATTACK & MOS DEF – I AGAINST I | 2002 | Special Cases
I Against I gets me juiced up for long training runs and races. Massive Attack is one of my favorite artists, and while I don't like a lot of music with lyrics, I love this trip-hop/hip-hop collaboration with Mos Def.
This is almost twenty years old, and it still sounds like it's from the future. Kudos to whoever created the video – it fits.
LUX – GOLDEN | 2020 | Golden
I grind through a ton of drum and bass when I run, because the high BPM matches my training cadence. While not a popular style of music here in the US, it's prolific elsewhere in the world, and there's a continuous stream of new music to listen to. It's an underrated genre.
Golden has been on repeat all year. It's a bit minimal, a bit atmospheric, and a bit of a roller. It's a mood stabilizer.
NU:TONE – BALACLAVA | 2008 | Future Sound of Cambridge 3
THIS. This is everything that makes Hospital Records (and drum and bass) so good, compressed into 5 short minutes.
MISANTHROP – TURBINE | 2019 | Analog
Probably the least accessible track here. Turbine is a standout on an experimental album that doesn't commit to anything but exploring early electronica analog sounds. The production value and complexity = audiophile brain food.
AFTERNOONS IN STEREO – OCEAN FLOOR | 2009 | Habitat '67
Yet another discovery from Groove Salad. Ocean Floor is seductive. The drums, the piano, the guitar, that jazz flute – they all have an analog warmth that is so frequently missing from modern music. It's hard to draw the line between what was recorded live and what's been digitally arranged. Also, it's just a really enjoyable song – like there's some fancy cocktail party on the ocean floor that we're missing out on up here.
DZIHAN & KAMIEN – HOMEBASE | 2000 | Freaks & Icons
Hello, summer. 🌴☀️🍺 Homebase is as Cafe Del Mar as it gets. How this is 21 years old is beyond me. Timeless – enough said.
---
SPOTIFY PLAYLIST